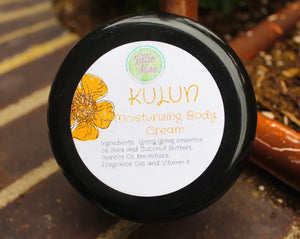 Inspired by the peach trees of Northeast China near the Kulun Mountains, this moisturizing body cream provides immediate skin hydration.  The combined energies of peach fragrances and Ylang Ylang essential oil create an immense spellbinding aroma.
Lillie Mae Suggest:  Kulun can be used to hydrate the skin and hair. Apply a generous amount and enjoy the hydrating bonus of applying a quality product.
Ingredients:  Shea Butter, Coconut Oil, Apricot Oil, Jojoba Oil, Vitamin E, Ylang Ylang essential oil, Apricot Oil, and a host of peach fragrances.